SPROUTEIN combines the nutritional benefits of enzymatically active sprouts, pumpkin seeds and fruit and vegetable superfoods to provide a raw source of protein and nutrients for a healthy and fit lifestyle.
SPROUTS offer some of the highest nutritional properties of any food in the plant and animal kingdoms. Our sprouts are comprised of high quality proteins, nutrients and chlorophyll.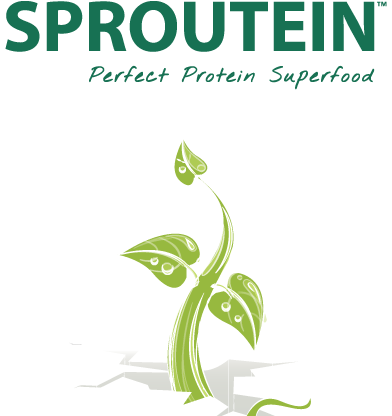 PUMPKIN SEEDS have been used as a dense source of nutrition in the North, South and Central Americas as far back as Aztec civilization, around 1300-1500AD. Nutrients such as zinc, iron, phosphorus and EFAs make pumpkin seeds a comprehensive and complete protein.
GOJI BERRIES are loaded with an impressive array of nutrients and phytochemicals, including 18 amino acids, trace minerals, EFAs, polysaccharides, monosaccharides, phenols, antioxidants, betacarotene, lutein, lycopene and essential vitamins.
MACA is a potent adaptogen indigenous to the hostile terrain of the Andes Mountains. For centuries, Maca has been used by the natives (including Incan Warriors) to increase stamina, endurance and sexual function.
BAOBAB is one of the oldest trees on the planet. Also known as the "upside-down tree," its fruits contain a wide array of essential vitamins, antioxidants and phytochemicals.

Pumpkin Seed Protein Powder°, Freshly Freeze-Dried Blend (Chia Sprouts°, Yellow Pea Sprouts°, Kale Sprouts°, Millet Sprouts°, Mung Bean Sprouts°, Quinoa Sprouts°, Sunflower Sprouts° and Amaranth Sprouts°), Lucuma Fruit Powder°, Maca Root Powder°, Goji Berry Powder°, Baobab Fruit Powder°
°Raw, Vegan, Organic, Gluten Free, Non-GMO, Kosher